Sugar Porn Favorites: 'Peter Pan XXX'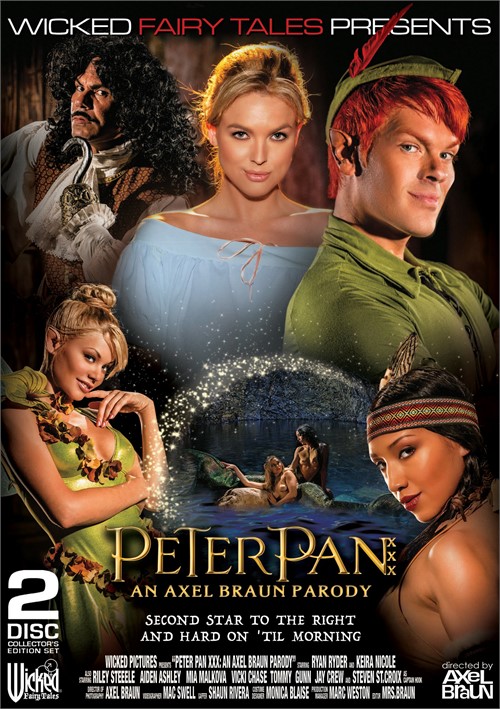 Origins/background: Peter Pan came along in 2015 as the fourth in the Wicked Fairy Tales line. Director Axel Braun had a longstanding enthusiasm for the material, as he told AVN when the movie was announced: "Peter Pan was by far my favorite fairy tale as a kid. The idea of being able to never grow up and live forever on a beautiful island surrounded by sexy mermaids was very appealing to me, and Tinker Bell was definitely one of my first sexual fantasies, so I'm obviously very excited about bringing this project to life."
Tagline: Wordplay based on one of the most famous lines from J.M. Barrie's original Peter Pan: "Second Star To The Right And Hard On 'Til Morning."
Casting: Riley Steele, then a contract star in the midst of a series of memorable roles in spoofs and parodies, plays Tinker Bell, with Scottish stud Ryan Ryder (later to win AVN's 2018 Male Foreign Performer of the Year prize) in the title role. The movie breaks with the long stage tradition of casting a female performer as Peter Pan.
Quotable: "Some projects just come together in a way that is simply magical, and Peter Pan XXX is definitely one of those. The amount of collective effort and passion that went into the making of this movie is palpable in every frame, and as critical as I notoriously am of my own work, I can honestly say this is one of my favorites ever." (Axel Braun)
Trivia: The movie was mentioned by Film School Rejects (a mainstream cinema blog) as evidence for the improving quality of porn parodies.
Memorable scene: Tinker Bell flutters in to visit Captain Hook (Steven St. Croix), who gets a lot more than he bargained for. "How big can you get?" Tink ponders. (Very big!)  (starts at time code 00:36:15)
Scene breakdown: boy/girl (2), boy/girl/girl (2) boy/boy/boy/girl (1)
Awards: The movie won awards at AVN, XBIZ, and XRCO, including the AVN statuettes for Best Parody and Movie of the Year.
The critics said: "While some might be turned off by the entire Peter Pan premise, as I initially was, this film is actually quite good, and the sex and cast are certainly hot. For those who enjoy parodies, Disney's stories, Keira Nicole, and/or Riley Steele, this one's worthy of a look." (Adult DVD Talk)
Related movies: Cinderella XXX, Snow White XXX