Sugar Porn Favorites: 'Cape Fear XXX'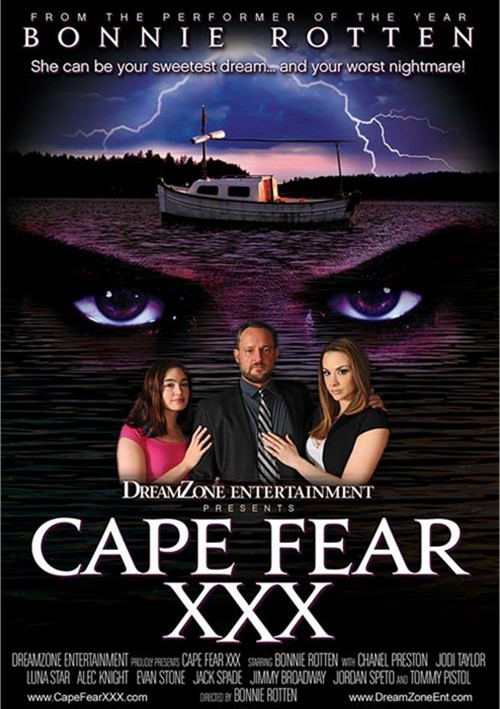 Origins/background: The original Cape Fear had two mainstream incarnations: a 1962 version starring Robert Mitchum and 1991 version with Robert De Niro (directed by Martin Scorsese, no less). Though lesser known than those two famous efforts, Dream Zone Entertainment's 2015 porn spoof is just as memorable a take on the material. The storyline follows the pattern of the previous incarnations, chronicling the power struggle between a vindictive ex-con and the person who originally helped put her in the slammer.
Tagline: "She can be your sweetest dream… and your worst nightmare!"
Casting: The movie flips the genders of the two leading characters. Bonnie Rotten steps into Robert De Niro's shoes as the villainous ex-con, while Chanel Preston on takes on the part played by Nick Nolte in the 1991 version. "I really love Robert DeNiro, and I thought this is a really great movie that he did, and he's such a creep and so crazy in it, and I figured, 'Hey, I'm a creep and I'm crazy so let's do it!' But in a good way, a nice creepy way," Rotten told AVN.
Quotable: ""Cape Fear XXX was a massive adventure for me," said Rotten. "I had full responsibility for everything: actors, locations, camera men, make up, wardrobe, everything! I had a fantastic time playing the role of Max Cady. I love De Niro so much and was glad to embody his character in a porn parody, especially one I directed." (Bonnie Rotten, as quoted by AVN)
Trivia: The movie marked the second time in two years that Rotten had stepped into a spoof of a role made famous by a movie tough guy. She'd also appeared in Rambone XXX (taking on the Sylvester Stallone-inspired title role) in 2014.
Memorable scene: Bonnie and Alec Knight hook up in the close quarters of a ship's cabin in the movie's final scene. (starts at time code 02:01:43)
Scene breakdown: boy/girl (5)
Awards: The movie captured six AVN nominations, including Best Parody and Best Actress (Bonnie Rotten).
The critics said: "This was a masterpiece from Bonnie. Although there was some gender switching from the original, don't let that deter you. Bonnie's acting was spot on!" (Adult DVD Talk)
Related movies: Rambone XXX